Information for Orthopaedic Technicians
Symphonie Aqua Line
System Overview
Symphonie Aqua Line – the hydrostatic plaster impression for accurately fitting prosthetic sockets
The innovative Symphonie Aqua System makes it possible to ascertain the residual limb's burden within the prosthetic socket under actual conditions and to produce a properly fitting plaster impression while bearing a full weight load. The hydrostatic pressure enables the exact anatomy to already be determined while taking the plaster impression, that is, before the test socket is produced. At the same time, soft tissue situations, bony structures, pressure points as well as scarred and sensitive areas can be optimally reproduced.
The impression and consequent socket align with the anatomy of the residual limb. Accordingly, the hydrostatic system has provided total surface weight bearing, a worldwide first.
Your advantages
increased customer satisfaction due to perfect fit and adhesion of the socket
effectiveness in socket production – no tedious fitting of the test socket longer needed
savings in cost, time and materials due to more efficient processes
replicability of plaster impression despite individuality
simple application; the calculation of recommended cylinder pressure is made possible for any technician by the Symphonie Aqua VC-App
the efficiency and effectivity leave more time for adjusting the prosthetic socket and for servicing patients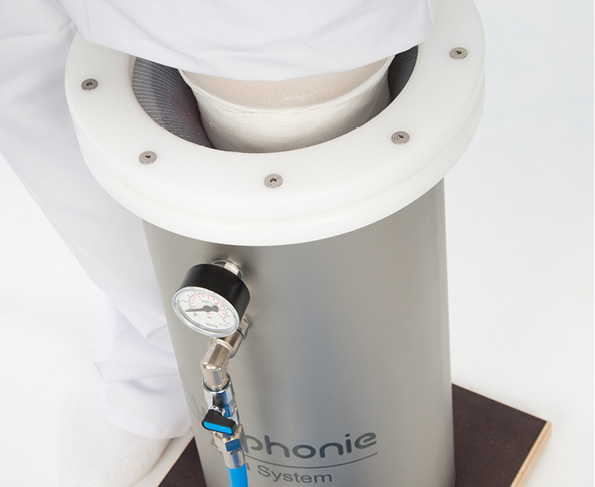 Study
Comparative observational study - blind test hydrostatic casting vs. other reisdual limb impressions methods
Which system is right for me – and what are the differences?
| Syphonie Aqua System | Basic | Ready | Gravity | VC | Digital | Compact |
| --- | --- | --- | --- | --- | --- | --- |
| Cylinder for lower leg | X | X | X | X | X | X |
| Cylinder for thigh | | | | X | X | |
| Can be retrofitted to VC and Digital | | X | | | | |
| Pressure can be calculated with APP | | | | X | X | X |
| Digital impression using a 3D-Printer | | | | | X | |
Symphonie Aqua
Line Knee Sleeve
The innovative, thin and flexible texture of the Symphonie Aqua Knee Sleeve combines adhesion and control with wearing comfort and mobility.
Free test in our Symphonie Aqua Fitting Center

If you are not sure which system is right for you, we will gladly offer you a demonstration of the Symphonie Aqua Line on your premises. Please contact us with any questions or for individual consultation.